Building my own PA system
Everyone starts out small
As mentioned in the introduction, I am fascinated with PA systems. Since my father no longer hosts events and I don't want to or can't rent a PA system whenever I want to listen to music at earth-shattering volume, I've been thinking about building my own to recreate the memories of my childhood.
My first attempt started when I was 16 years old and still in school. Money didn't grow on trees (especially not in our house), so I had to plan everything carefully. At that time, my sister's friend gave me two full-range PA speakers with very cheap no-name drivers and unknown parameters. Knowing that I want to try these, I saved up for almost a year for a Thomann t.amp TSA 1400 amplifier and a cheap USB sound card from Behringer with RCA connectors (I think it was a Behringer U-Control UCA222) and set it all up in my childhood room at my mom's house. We lived in an apartment building at the time, and both my neighbors and she hated me for deciding to turn my room into a miniature club. But I tried my best to keep the volume down most of the time. The fact that I preferred listening to hardstyle at that time didn't make things any easier.
When I think back to those days, I cringe at the awful sound of the cheap speaker, the low sound pressure of the amplifier, and the horrible hum of the cheap sound card. But hey, I tried. 🙂
When I realized that my "dream" would have to wait until I had more money and my own place, I sold everything on eBay.
10 years later…
…I tried again. This time I had more experience from doing a lot of research, was more familiar with brands, and knew what to look for to meet my needs. I also thought about building a system that I could rent out from time to time. This time I set a higher goal and wanted to build a PA system that approached hi-fi quality, but at much higher volume levels. The idea of Cryshell Audio was born.
I think I have to admit at this point that I never had the chance to try out any of the devices I bought beforehand. I just trusted all the positive and also negative comments, YouTube videos and reviews I found on the Internet.
Tops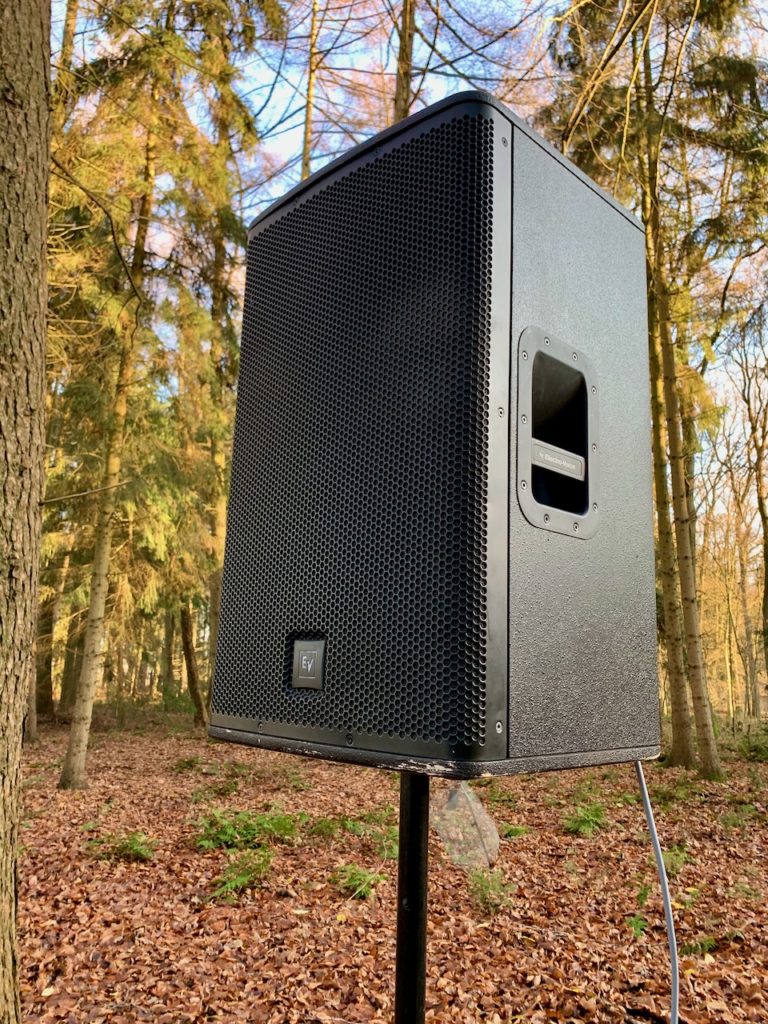 I read a lot of positive comments and reviews about the ElectroVoice ELX 115 passive full-range speakers and tried to imagine their sound – which, of course, is not really possible if you have nothing to compare them to. So I scoured eBay to find a used pair from the rehearsal room of a retired small band. From the pictures, the tops looked pretty good, except for a couple of dings in the wood, so I swooped in and bought them – with shipping.
I knew from the start that choosing shipping was a bad idea, but they were in a town so far away that it just didn't make sense to pick them up myself. But boy, were they dented when they arrived. I had to straighten the bent metal grille with a hammer.
| | |
| --- | --- |
| Power handling | 400W RMS / 1600W Peak @ 8 Ohms |
| Frequency range | 50Hz – 20.000Hz |
| Sound pressure level (SPL) | 95dB (1W/1m) |
Subs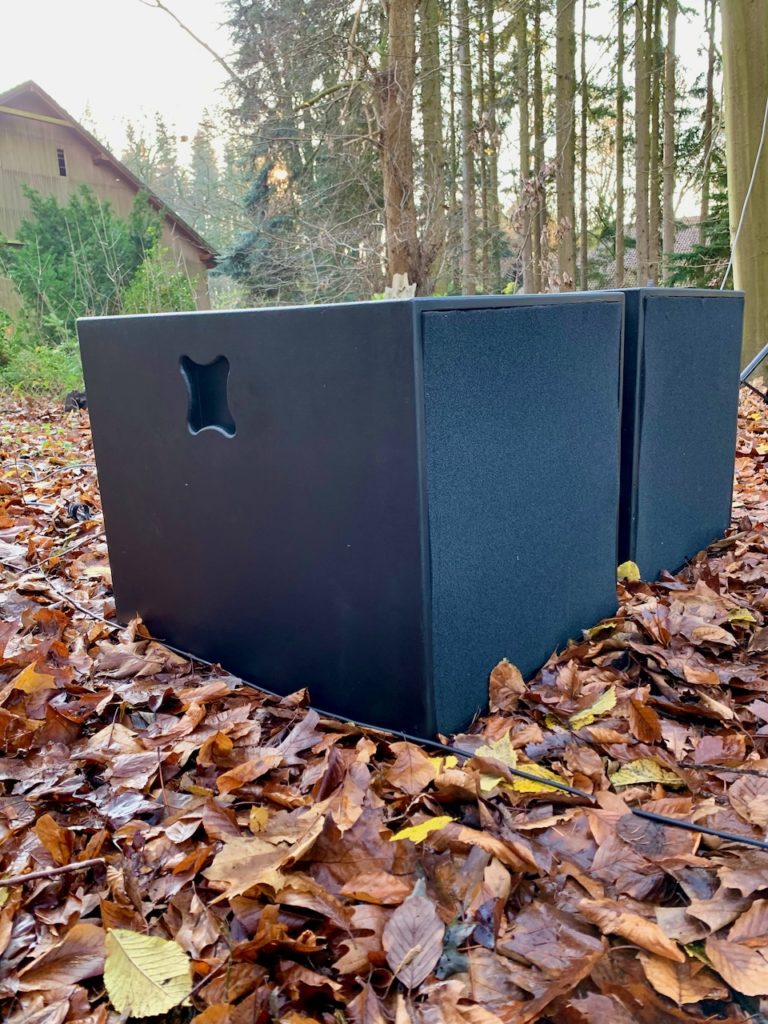 For the subwoofer, I thought I would need something larger than the matching ELX 118 from the same ElectroVoice series. This one also just didn't have as good reviews. Since subwoofers are quite expensive in PA and also HiFi, I came up with the idea of building my own – or two. I found a do-it-yourself model called MBH-118, which is a horn/bass reflex hybrid system with inverted polarity. There was a lot of mixed feedback on the forum where I read about it, but I just wanted to give it a try. I didn't have many alternatives anyway.
While browsing eBay again, I came across two empty cases and picked them up myself this time due to negative experience from the past. For the transport I borrowed a van from the company I work for. To my amusement, I bought them from a father who seemed to have had enough of his son's hobby. Sorry pal. 😅
The cabinets were badly scuffed, so I had to replace the connectors for the wiring and do a little painting. The MBH-118 boxes need to be driven by the RCF L18S801 chassis they were designed for, so I bought this in the 8 ohm version. At the time of this post, the chassis are unfortunately no longer available. With a little luck, however, you can still find them in stock at various dealers.
With built-in drivers and speaker foam on the front they looked really professional again!
| | |
| --- | --- |
| Power handling | 700W RMS / 1400W Peak @ 8 Ohms |
| Frequency range | 41Hz – 210Hz |
| Sound pressure level (SPL) | 96dB (1W/1m) |
Amp
I already bought a 4U rack before I planned all the equipment selection (don't ask me why, I guess it was on sale), so I needed density. I was looking for a 4 channel system amplifier to power all 4 speakers simultaneously. Classically channel A and B for the tops and C and D for the subs. The first thing I came across was another t.amp, the TSA 4-1300, which was discontinued as I write this post. I read a lot of comments about this amp, of course, with very mixed feedback. However, a few comments caught my attention. People there were talking about an insider's tip, a Chinese amplifier clone of the famous Lab Gruppen FP 10000Q. Of course, I was a little skeptical when I first heard about it, since the original was 10 times its price. But people hyped it so much that I dove deeper and deeper.
I learned that the FP 10000Q is cloned by various brands such as Sanway, Sinbosen, Tulun Play, Gisen, etc.. Each of them is available through AliExpress. In most cases, they cost around 650 euros and do not have the expensive NomadLink network interface. Just a pure power amp without a lot of bells and whistles. Tulun Play has built a clone that is most similar to the original due to the components used and comes with a 3-year warranty. They call it the Tulun Play TIP 10000Q (funny, it almost sounds like the original). The spec sheet promised a lot of power with a comparatively low THD, so I ordered it.
| | |
| --- | --- |
| Power handling @ 8 Ohms (RMS) | 4x 1250W / 2x 4200W bridged |
| Power handling @ 4 Ohms (RMS) | 4x 2100W / 2x 5000W bridged |
| Power handling @ 2 Ohms (RMS) | 4x 2500W |
| Total harmonic distortion (THD) | < 0,1% (20Hz – 20.000Hz for 1W) |
Controller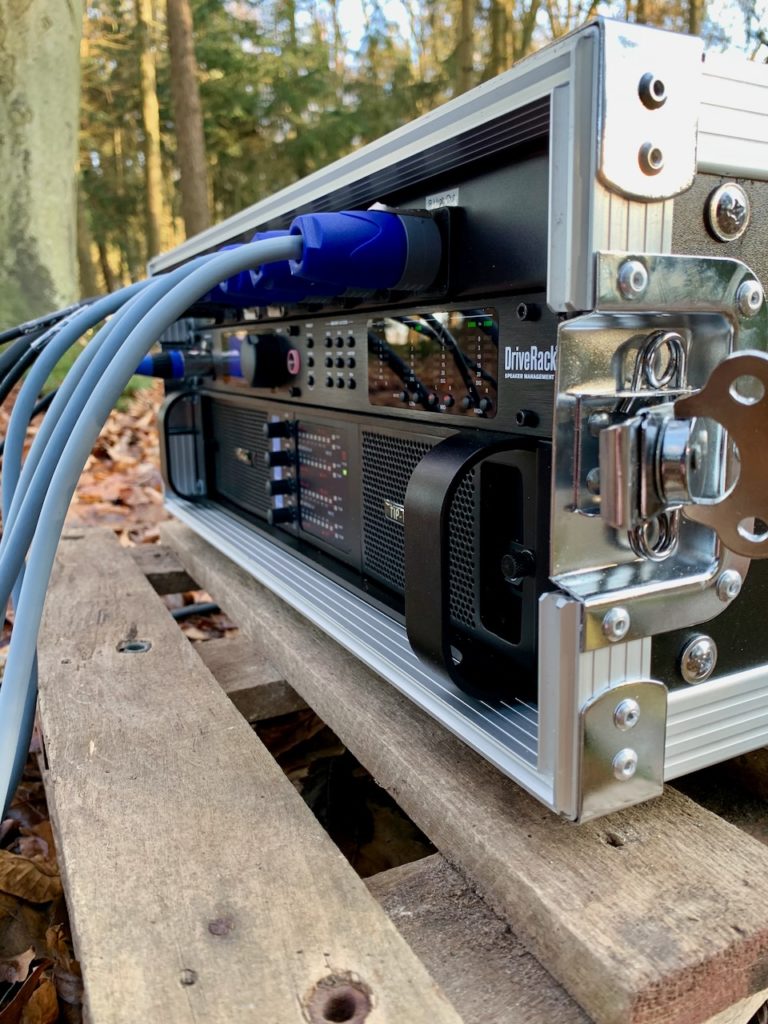 Another core piece I needed for my amp rack was a controller for the crossover and limiter function. If you look for a controller at Thomann, sooner or later you'll come across the Behringer DCX2496 Ultradrive Pro. But thinking back to my early years, I swore at the time that I would never touch equipment from Behringer ever again. So I compared it to the similar in features – but more expensive – DBX DriveRack PA2, which I had also seen in some YouTube videos and which I really liked. It had everything I needed, from the obligatory crossover and limiter to network control and advanced EQ settings. Plus, the black front matched my amp perfectly. 😊
I equipped the final amp rack with a small WLAN router that was connected to the controller. This allowed me to control the DBX's settings from my iPad. The panel on the front provided all the necessary connections like XLR inputs and SpeakOn outputs, which I soldered inside the rack myself.
Mixer
As I said before, the most important thing for me is sound quality without noise. That means my goal was to work with fully balanced inputs and outputs from the mixer to the controller to every other component in the amplification chain. Only the short path between the audio source (my iPad) and the mixer was allowed to be unbalanced RCA or 3.5mm jack.
So it came that I stumbled on Thomann again first about a Behringer mixer (which I skillfully ignored) and immediately fell in love with a model of Yamaha. In addition I must say that I have won Yamaha from the HiFi area dear. My amplifier there is also a Yamaha model and has never let me down.
The Yamaha MG06 offers exactly what I need with balanced XLR outputs and high quality components. I didn't care about the number of inputs, one stereo channel would have been enough for me. Now I have even more. I just saw that the price of this mixer has more than doubled. When I bought it some time ago, it only cost around 60 euros. I must have been lucky there. 😅
The final result
The first assembly is the most fun. Always. Due to a lack of alternatives in the COVID-19 time, I assembled the complete system in my bedroom and played it on a test basis. Of course, I could hardly adjust anything not to mention rate it. I was just happy and proud that there was any sound coming out of the speakers at all. I even have a small clip of how it looked in my bedroom when I was listening to Slipknot (I had a bike accident listening to this song, so maybe I should stop using it as a reference here). That' s about it for the selection and setup of my first own complete PA system.
In the next few posts, I'd like to show you the journey from setting up the system in its first proper location (a forest, you've already seen it in the pictures) to its current location in the basement of my mother's house, where it now lives. There I was also finally able to make some adjustments to the sound quality and setup the gain structure and limiter. I will try to include some technical terms and information and explain them using examples that I have experienced myself.
I hope I can encourage you to follow your dreams and desires when it comes to things like music and sound. There is not much that brings as much joy to life as this. Stay tuned for more. 😊
Definition of terms
Inverted Polarity
Polarity describes the behavior of a loudspeaker when receiving a signal. Imagine it simplified as follows: When a drummer beats the bass drum, the speaker swings forward. If the polarity is inverted, the loudspeaker will swing backwards. This behavior is necessary because in certain cabinets – like this one – the chassis is mounted in the opposite direction.

Total harmonic distortion (THD)
A measurement that tells you how much of the distortion of a voltage or current is due to harmonics in the signal. It should be as low as possible.

Balanced Inputs
When using a balanced cable, two complementary versions of the same signal are sent simultaneously: A "hot" signal and a "cold" signal which is a phase inverted version of the same signal. The balanced input stage of the receiving device (e.g. a controller or amplifier) uses only the difference between the hot and cold lines, which means that anything common to both lines – in this case noise – is cancelled. This is the most common way to carry a signal over a long distance without loosing signal quality.